REPLICATIE SERVICE
Alle data binnen handbereik!
Met onze replicatie service kun je data uit meer dan 200 bronnen op eenvoudige wijze gebruiken in Microsoft Excel, Qlik Sense, Microsoft Power BI, Tableau en andere rapportageprogramma's.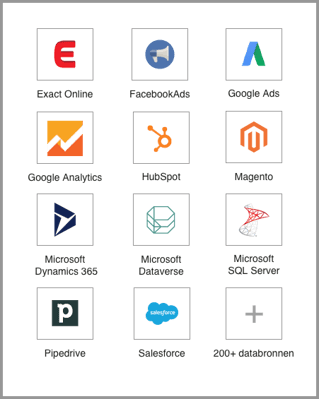 HOUD TIJD OVER
Maak het jezelf makkelijk
Dankzij onze replicatie service wordt het benaderen van data een fluitje van een cent. Je hoeft niet langer uren, dagen of weken te spenderen aan het maken van een koppeling met een API, maar haalt met een paar klikken de data op uit een overzichtelijke database. Zo houd je meer tijd over om de data te analyseren.
Wij hebben connectoren om data op te halen uit meer dan 200 bronnen. De data wordt opgeslagen in een aparte database zodat je daarop makkelijk kunt rapporteren.
Of je nou data wilt visualiseren met interactieve dashboards in Qlik Sense en Microsoft Power BI of gewoon spreadsheets wilt maken met Excel; jij bepaalt welke tool je gebruikt.
Doordat je daardoor niet steeds alle gegevens rechtstreeks via de API's hoeft op te halen, gaat het verversen van dashboards terug van enkele uren of minuten naar enkele seconden.
Basis
Ideaal als je net bent gestart met het analyseren van je gegevens.
---
1 basis connector

dagelijkse verversing

MSSQL database op dataspark platform (tot 10GB).

online support

€150,- set-up (eenmalig)
Meest gekozen
Pro
De meest gekozen optie, bevat alle premium connectoren.
---
1 premium connector

dagelijkse verversing

MSSQL database op dataspark platform (tot 10GB).

online support

24/7 online support

€150,- set-up (eenmalig)
Enterprise
Op aanvraag
Voor alle enterprise connectoren en/of bedrijven die data uit meerdere bronnen willen ophalen.
---
alle connectoren

meerdere verversingen per dag

apart datawarehouse

premium support
Connectoren
Basis
Pro
Enterprise

Act-On

Act CRM

ADP

ActiveCampaign

Active Directory

Amazon Redshift

Adobe Analytics

Airtable

Amazon S3

Amazon Marketplace

Asana

Apache

Bing Ads

Atlassian Confluence

Apache Spark SQL

Bing Search

Atlassian Jira

Azure Cosmos DB

CSV/TSV Files

Atlassian Jira Service Desk

Azure Data Catalog

Dropbox

Azure Active Directory

Azure Data Lake Storage

eBay

Basecamp

Databricks

eBay Analytics

BigCommerce

Dynamics 365 Business Central

Facebook

BugZilla

Elasticsearch

Facebook Ads

Bullhorn CRM

EnterpriseDB

Google Ad Manager

DocuSign

Epicor ERP

Google Ads

Exact Online

Google AlloyDB

Google Analytics

FreshBooks

Google BigQuery

Google Calendar

Freshdesk

Google Data Catalog

Google Campaign Manager

GitHub

GraphQL

Google Contacts

Highrise CRM

HubSpot

Google Directory

Microsoft Access

IBM DB2

Google Drive

Microsoft Teams

LDAP

Google Search

MYOB AccountRight

Magento

Google Sheets

OData

MariaDB

Instagram

Odoo

Marketo

JSON

Outreach.io

MarkLogic

LinkedIn

Pipedrive

Microsoft Dataverse (CDS)

LinkedIn Ads

QuickBooks Desktop

Microsoft Dynamics 365

MailChimp

QuickBooks Online

Microsoft SharePoint

Microsoft Excel

QuickBooks Point of Sale

Microsoft SQL Server

Microsoft Excel Online

Raisers Edge NXT

Monday.com

Microsoft Exchange

Reckon

MongoDB

Microsoft Office 365

Reckon Accounts Hosted

MySQL

Microsoft OneDrive

Square

Neo4J

Microsoft OneNote

Streak

NetSuite CRM & ERP

Microsoft Planner

Stripe

Oracle Database

Microsoft Project

Sugar CRM

Oracle Eloqua

PayPal

SuiteCRM

Oracle Financials Cloud

Pinterest

SurveyMonkey

Oracle HCM Cloud

RSS Feeds

Trello

Oracle Sales

Snapchat Ads

TSheets

Oracle Service Cloud

Twitter

WordPress

PostgreSQL

Twitter Ads

Zendesk

QuickBase

XML Files

Zoho Books

Redis

YouTube Analytics

Zoho Creator

Sage

Zoho CRM

Salesforce

Zoho Projects

Salesforce Marketing Cloud

Salesforce Pardot

SAP Business One

SAS Data Sets

SendGrid

ServiceNow

Shopify

Slack

Snowflake

SQLite

Sybase

Teradata

Twilio

WooCommerce

Workday

Xero Accounting

Zuora
Staat de connector die je zoekt niet in onderstaande lijst? Laat het ons dan weten zodat we kunnen kijken of er alsnog mogelijkheden zijn om de gegevens op te halen.